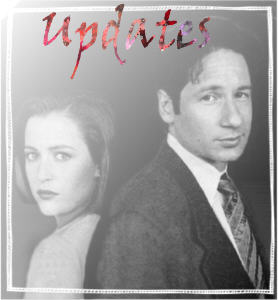 April, 2001

Fanfiction

I've updated the fanfic page with a new story called He Left The Light On (My official "This Is Not Happening" post-ep fic) This fic was experimental for me, in that I was using a style I've never really delved into before. Let me know what you think!

A note: as far as the Opposite Side of the Moon goes, I have the last chapter halfway finished. I'm not sure when it will be out, but it is almost ready to post.

This Page
The resolution on my screen went kinda funny, so to me this page looks like a 'big ole mess.' Unfortunately, I have no way of knowing whether this really is the case. I can't seem to change the resolution back. So if there are problems or if something just...well, doesn't look right, email me and let me know!
Upcoming
Episodes:
4/01:
Dead/Alive
4/8:
Three Words
4/15:
Empedocles
4/22
Vienen
TBD:
Alone
Essence
Existence
(Season
finale?)
For the most recent
spoilers, Leia
reccomends
THE HAVEN