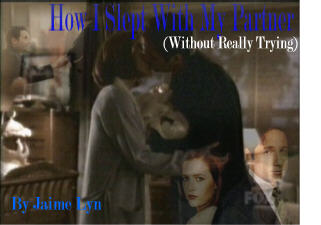 This is a completed story.
However, just for fun,
Updates Will Be Posted Every Monday Morning.
(Life is always more fun when you have something to look forward to, right?)
FYI:
(If you have trouble finding your way around:)
Each "chapter" has its own row, and is broken up into two parts. The halves of each "chapter" are listed HORIZONTALLY. The first half of each "chapter" is situated on the left hand side of the page, while the second half of that "chapter" is listed on the right. Each "Chapter" will have one "Mulder's version" and one "Scully's version.

Oh, and "How To Blend in With Normal People" is being linked here as part of PART THREE. I decided that this would be the best place for it to figure in. The chapter "listed" on the right hand side of it is NEW.

Image below borrowed from

THE HAVEN

Please click on the above photo to learn more about how you can help.
Author's note:
"How I Slept With My Partner (Without Really Trying)" is just the "secret-header-name" for some notes Jose Chung is gathering for his next fiction novel. He's asked me, Jaime Lyn, to conduct a few interviews for him, as he is sick at home with the flu.
All personal accounts contained, herein, are the property of Dana Katherine Scully and Fox William Mulder. The names will be changed, of course, but the accounts will most likely remain intact. For those of you who read "How to Blend in With Normal People," this piece is also a direct follow up to that story (or an indirect one, or a prequel, or a sequel, or a "middle"-quel, or a whatever) so please read at your discretion.
This is NOT, I repeat, NOT a work in progress.
*****

11/22/01

** Happy Thanksgiving Everyone! **

In honor of Thanksgiving, I have posted the Epilogue (I.E The LAST part) for "How I Slept With My Partner." In other words, the story is complete. Yeah! (And wouldn't the pilgrims be proud knowing that this is how we honor them... Well, this and a giant hot air balloon shaped like Bart Simpson....)

For those of you who know folks on my mailing list, or if you know folks who were waiting until the last part to read the whole thing, please spread the word for me. I'm actually out of town, so I don't have my saved folder (in my inbox) with all the email addresses of those on my mailing list. When I get back, I'll be sure to email everyone. Again, Happy Thanksgiving! Be safe!

*******************


P.s: I changed the "update day" to Monday morning instead of sunday evening because... well, I realized I go online late. Nothing has changed with the updates. I just realized that I keep very odd hours and not everyone is online when I update. Hopefully, this will be better. :o)